Minden, amit a szájpadlástágításról érdemes tudni!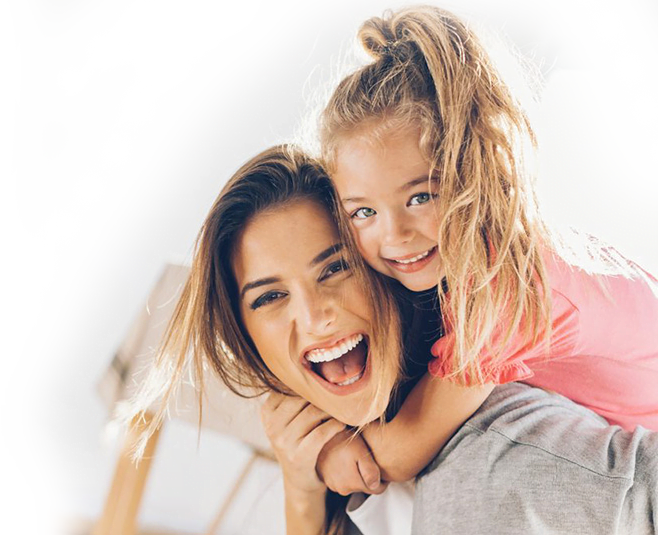 Hogy néz ki a szájpadlástágító?
Rögzített készülékről van szó, amelyet a felső oldalsó fogakra rögzítünk, középen egy csavar található benne amit szájban otthon kell aktiválni. Az aktiválások (tekerések) számát és mértékét minden esetben pontosan meghatározzuk. Általában 1-2 hét elegendő a megfelelő eredmény eléréséhez.
Az idő leteltével a készüléket rögzítjük, lezárjuk a csavart és aktiválás nélkül, pár hónapig a szájban hagyjuk amíg az elért eredmény stabilizálódik.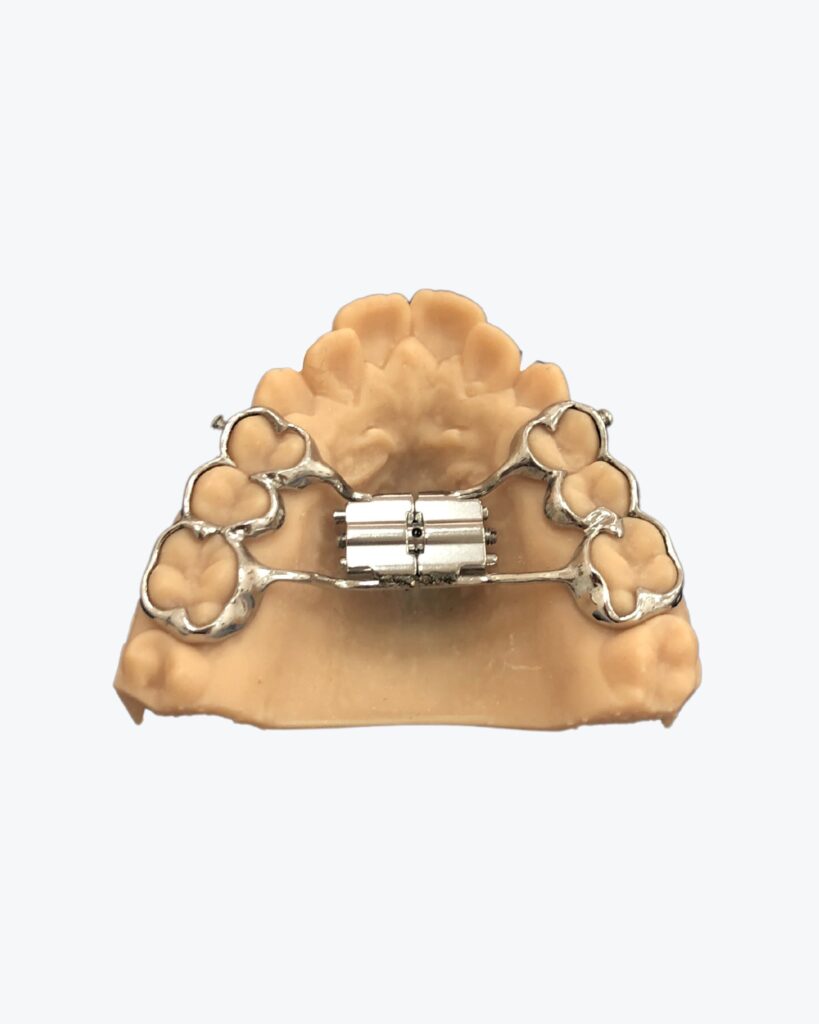 Hogy működik a szájpadlástágító?
A szájpadtágítást érdemes minél fiatalabb korban megoldani, mert ebben az életkorban a koponyai csontjait összekötő ún. szutúrák (varratok) még nem csontosodtak össze és kötőszövetes állapotukban egyszerűen, könnyen nyújthatóak.
A felső fogív két félből fejlődik ki és a szájpadlás közepén húzódó varrattal ízesül, kapcsolódik egymáshoz. A szájpadlás tágításakor ezt a varratot nyújtjuk, ezáltal a felső fogív és a maxilla csontosan tágítható, szélesíthető. Ezáltal egyszerűen kezeljük a keresztharapást és helyet teremtünk a fogívben a torlódás megoldásához és a fogak sorba rendezéséhez.
A készüléket 1-2 hétig aktiváljuk. Ezalatt az idő alatt a két felső metszőfog között rés nyílik. Ebből tudhatjuk, hogy a készülék jól működik és valóban csontos tágítás történik. Ez a rés spontán záródik 2-3 hónap alatt.
Szájpadtágítás lehetőségei felnőttkorban
Felnőttek esetében a fent leírt varrat már kevésbé kötőszövetes, így régebben csak műtéttel támogatott megoldásaink voltak. A mai modern fogszabályozás szerencsére egyéb műtét nélküli megoldásokkal is szolgál. Ez a megoldás nem más mint a Hybrid Hyrax készülék. Az erőátvitel optimalizálása érdekében kis csavarokat használunk amire rögzítjük magát a szájpadlás tágítót. Ezáltal elkerüljük a fogak esetleges túlterhelését illetve a nemkívánatos kidőlését. 
Plusz előnye, hogy kezelni tudunk olyan pácienseket is, akiknél a fogelhorgonyzás problémákba ütközik. ilyen eset például, mikor foghiány van jelen vagy fogágybetegségtől meggyengült fogazat.
Az aktív tágítás után (1-3 hét) már elkezdhető a fogszabályozás is a fogak sorba rendezése.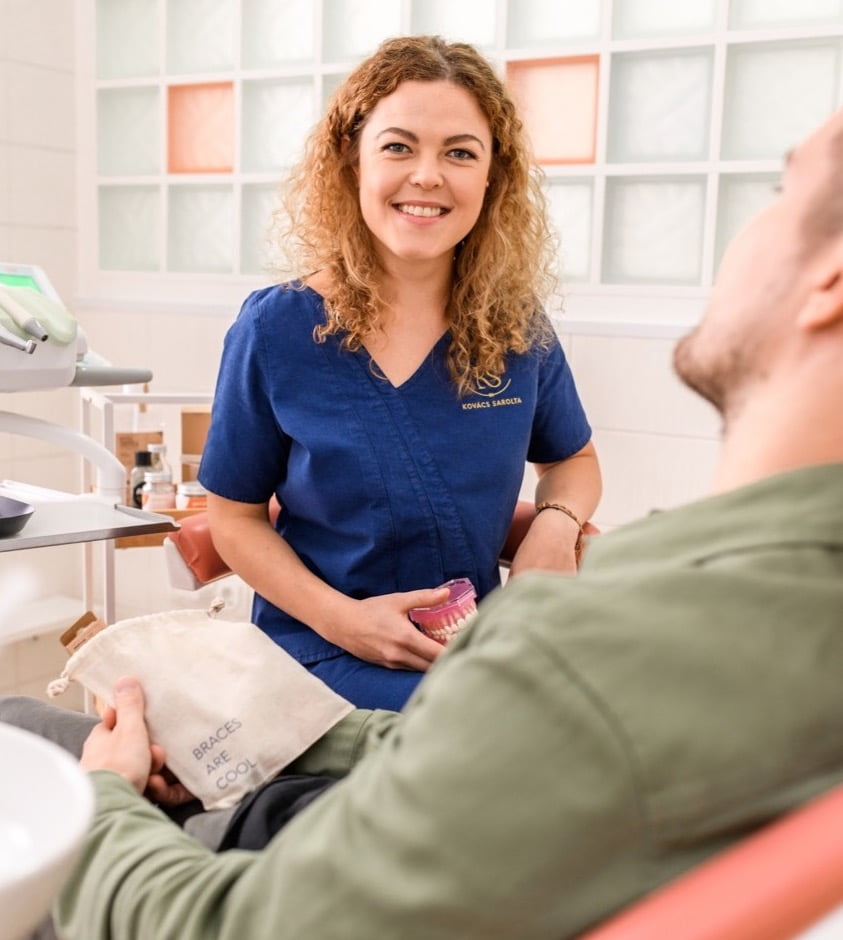 Fogszabályozó kezelés menete
A sikeres és leggyorsabb fogszabályzó kezelések kulcsa az alapos diagnózis és részletes kezelési terv. A legmodernebb eszközökkel és technológiákkal dolgozunk, így a fogszabályozás nálunk tényleg csak minimális kellemetlenséggel jár. Mind a kezelési, mind a fogorvosi székben töltött idő olyan rövid, amilyen csak lehet.
An investment for lifetime
Your smile is one of the first physical features others see. A beautiful smile tells the outside world that you take good care of yourself.
How was your time together?
FEEDBACK FROM OUR PATIENTS:
Chance brought us together, but it couldn't have happened any better, super team, kindness and expertise. Orthodontics was the longest 2 years of my life, but it was worth it.
I had a very positive first impression of the studio and the team. The place is very friendly and everyone is very kind and prepared. It used to be a big problem if I had to go to the dentist, but if I have to, I'm happy to come here.
Both of my children went to Dr. Kovács Sarolta and the younger one is still going. My older daughter got a dreamy beautiful smile, and her jaw pain problems disappeared. The orthodontist is very skilled, I can definitely recommend her! The clinic is beautiful. Reception colleagues are always kind and patient.
Both the equipment and appearance of the Studio, as well as the kind and flexible attitude that listens to our individual needs, had a positive effect on us. I received detailed and competent answers to my questions. I would gladly recommend the Studio to others!
Thanks to you I am no longer afraid of dental visits, in fact I look forward to all the opportunities that you will give me back my self-confidence and I can see the smile in the mirror I have always wanted.
A dear dental hygienist friend of mine recommended the Orthodintic Studio. I just had braces a year ago and I'm so glad I chose them. The whole team is professional, and the atmosphere is friendly and calming. I recommend them to everyone with all my heart.
The professional dedication represented by Dr. Kovács Sarolta is admirable and immeasurable! I was part of a period of gradually dosed, leading to a beautiful end result. I got full rows of straight teeth and a maximum smile full of self-confidence. Thank you again!
Real wizards :). And a good atmosphere is always guaranteed. The fear of the dentist's office is in the past, I can only recommend them.
The environment and the team are also friendly. I have already recommended and will recommend the Orthodontic Studio.
Expertise and an enthusiastic attitude await everyone!
Don't hesitate to get into orthodontics! Take a look at our portfolio.
Dr. Sarolta Kovács orthodontist
The trusting relationship between the doctor and the patient is
the secret ingredient of a successful treatment.
With precise digital planning
we do our best to be the most effective
with a short treatment time
we achieve change.
You cannot wait for treatment appointments to make your smile
even more beautiful.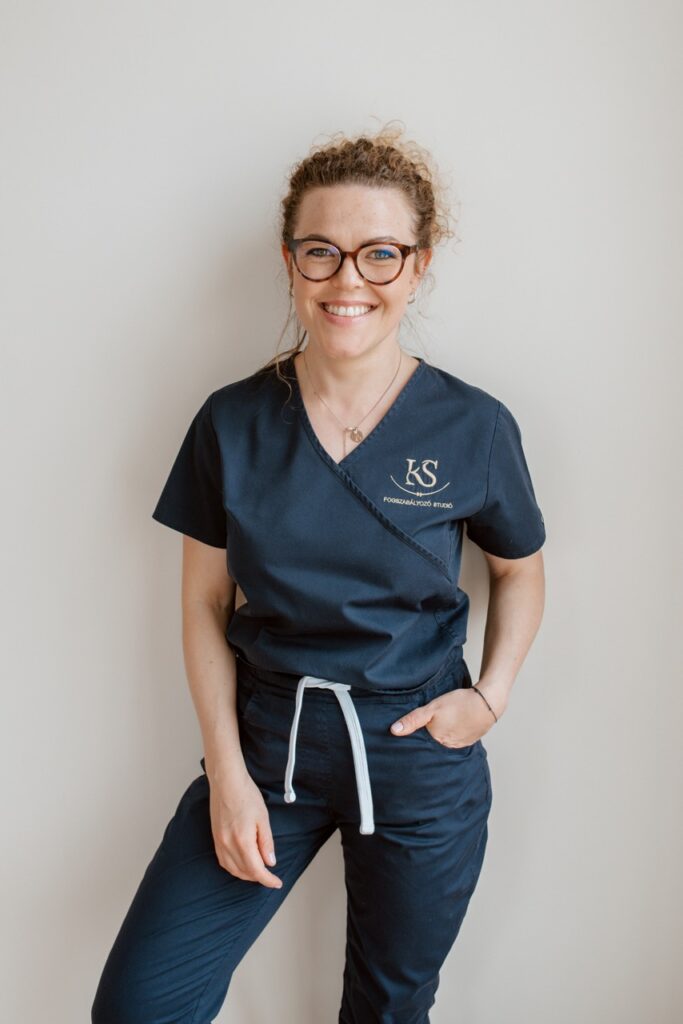 Find out more from our latest blog articles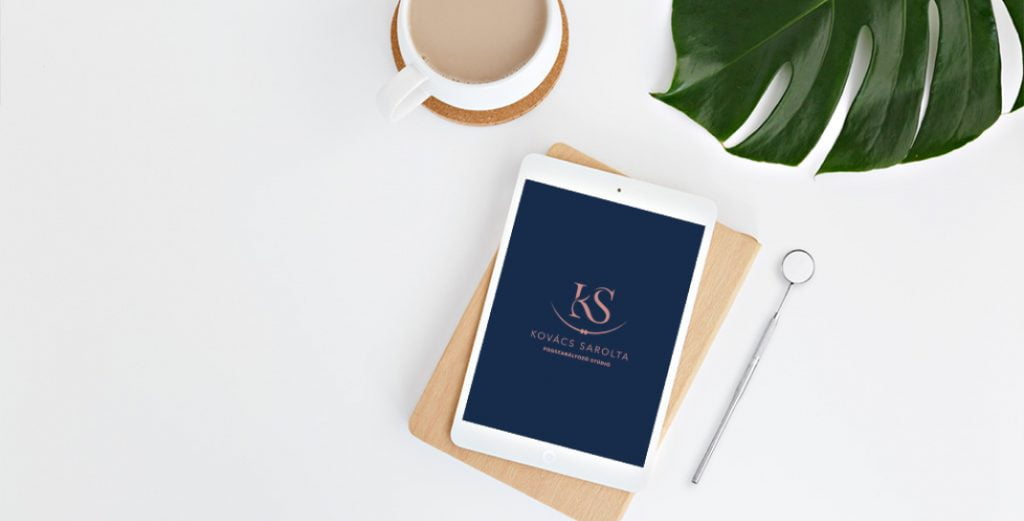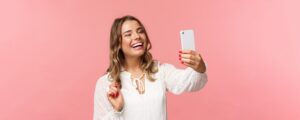 Érdekel hogyan néznél ki fogszabályozás után, szabályos mosollyal? Akkor jó hírem van! Csupán 60 másodpercre vagy attól, hogy megpillantsd jövőbeli
Olvass tovább »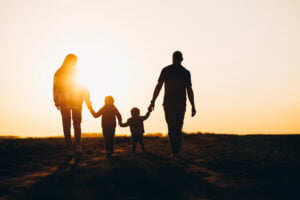 Horkolás? "Tokás" arcprofil? Helytelen testtartás? Szívbetegségek Állkapocs ízületi panaszok?    Tisztában kell lennünk azzal, hogy a szabálytalan fogsor – a szabálytalan mosolyon
Olvass tovább »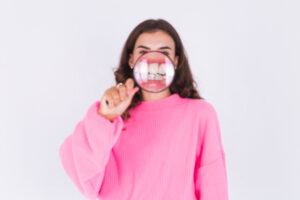 Miért torlódnak a fogaink? Mi okozza a fogtorlódást? Fogak torlódásának okai felnőttkorban Általános jelenség, hogy a bölcsességfogak előtörésének ideje nagyjából
Olvass tovább »
Ask for a personal consultation appointment
Just a text or phone call and we'll discuss everything.
FILL IN THE FORM BELOW WITH YOUR DATA
Enter your name and phone number so we can call you
TELL US WHEN WE CAN CALL
Choose a day and time when we can talk
YOU ARE READY FOR OUR CALL
You will soon receive all the help you need to smile confidently
First of all, we ask you to enter your personal data. Give a phone number where we can reach you at the requested time.
Think about when it would be appropriate to call and discuss further.
Don't miss the latest news: ask for our FREE letters with promotions, orthodontics and oral care tips!
Help us by describing in a few sentences the problems you have with your smile and teeth. That way, we'll be prepared when we call.
By clicking the "CALL BACK REQUEST" button, you accept our General Terms and Conditions and our Privacy Policy.
Live every moment of life without limits